Prof. César Soutullo, MD, PhD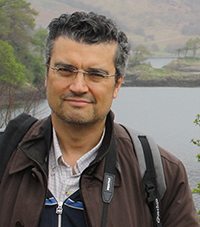 César Soutullo is Associate Professor and Director of the Child & Adolescent Psychiatry (CAP) Unit, and Training Director of the CAP Fellowship program at the University of Navarra Clinic, in Pamplona, Spain. He graduated from the Complutense University of Madrid College of Medicine, Spain. After two years of general training (Intern
al Medicine, Surgery & Emergency Medicine) in the U.K., he completed his Residency in Psychiatry, and Fellowships in Biological Psychiatry and Child & Adolescent Psychiatry at the University of Cincinnati, Ohio, U.S.A., where he then was Assistant Professor in Clinical Psychiatry. He moved to his current position at the University of Navarra in 1999. He completed his Ph.D. at the University of Navarra (2002), in Psychiatry & Neurosciences and his dissertation on Phenomenology of Children at High Risk for Bipolar Disorder obtained the "Extraordinary Thesis Award". He received awards such as the AACAP Presidential Scholar Award, the Association for Academic Psychiatry Bristol-Myers Fellowship in Academic Psychiatry, and the Society of Biological Psychiatry Eli Lilly Fellowship Award, and has been Mentor twice in the Donald J. Cohen Fellowship.
César's main research interests are ADHD, paediatric mood disorders (especially bipolar), and paediatric psychopharmacology, with research funding from national and international private and public sources. He is member of EUNETHYDIS´ Guidelines Group and of the Scientific Program Committee of the World Federation of ADHD.
César is reviewer of 29 international journals, and is author of 74 original reports, 95 book chapters, 241 abstracts at national or international conferences and has authored or edited 19 books (H Factor: 27, mean year citations: 110), and has been invited to give 346 talks at National and international conference/meetings/courses.